Welcome to AYA® galaxy
We changed our name for the market outside of Asia. 
AR•YA® is now challed AYA® for a better understanding of the spelling [:aya] 
For better understanding of the spelling, we have changed our name from ARYA® to AYA® for the market outside Asia.
Originally the name means noble - sublime and completely relaxed like [:Aaahyeahh], but because of some of our international partners we didn't want to be misunderstood.
 As in the English language, the "R" in ARYA is almost inaudible, and upon closer inspection it is even designed as an "H".  It should be an open "R". 😉
We created our own font consisting of many hammocks.    We can't make it right for everyone.  Who can do that?  😊 
 Therefore, we will continue to ship versions with old labels shipped from Asia as we cannot afford to change all of our labels.  Our products will therefore be limited versions until the new hammocks that have already been produced are phased out. 
Do you remember the Covid period and its impact on all areas of life? The 2020 Olympic Games were planned.  Due to the circumstances of the pandemic, these could not take place.  When the Olympic Games were finally held, no one had any problems in 2021 when all the banners and articles said the Olympics 2020 instead of 2021 😉
!  We want our products to be understood as non-political ! 
We now hope to have clarified everything regarding our original naming.  We are happy to answer questions and suggestions in our media channels.
 Our "www.arya.is" has the ".is" as the domain extension because the elf princess ARYA, who is one of the biggest fans of hammocks, lives in Iceland.  And not because we are fans of IS in the Middle East.
 Because we are a high quality, fine brand defined by experienced craftsmanship, we think it is important for our long-standing customers to be well understood when it comes to positioning our brand. 
 Our community is all about the relaxing side of life!
Since our founding, we have been able to rely on trustworthy partners when it comes to environmentally friendly production. Every single manufacturing process of our handmade products is carried out at the highest level. We can guarantee that only adults who are well over 25 years old work for us. We only have highly qualified specialists with the best knowledge of their production area. That's why we don't display additional certifications.  All of them could be purchased here in India.  Basically everywhere in the usual producing countries.
 We are proud to manufacture in India with highly professional machines and people who have a smile on their faces when they think of being part of our 
AYA Galaxy team.
We proudly present our latest design - the AYA FLUX®
AYA FLUX® structures are ready and in production for our customers to buy.
We decided instead of being under construction to slowly give you updates 
while we are creating our new AYA galaxy shop on shopify.
Till then you have our filloutform for your direct order.
We try to be as quick as possible to reach out for you. 
Nothing is automated on our site.
Shopify will ;-) 
Our first product - the AR•YA® hammock is of course always in our program of fine products
What makes the AR•YA® hammock special?

The AR•YA
®
hammock is done from a bamboo-based multifunctional fabric
to please your skin with cosiness and wellbeing!
You will use it every day and wonder that you can use your hammock as well only as a hammock :-)
of all the different others ways to be happy with our product not thinking of a hammock only!
please fill in the form below
completely with valid e-mail and telephone number

We can only answer you if you have a positively verified user

Shop coming soon ...

 You get multipurpose uses in one go with the AR•YA® classic hammock
320cm x 225cm hammock
350kg capacity
airseat

sun wind & sand protection
picnic blanket
sheet
tarp
half tent
curtain
room concept
beach shell
safety sturdy blanket to keep warm & cosy
anti stress punching bag & pillow
abs workout hammock
rucksack bag
small hammock
stuff sack
Two 5m Nylon ropes 
of sturdy fine & soft but sturdy quality 
with anti allergic metal ends 
for more freedom when throwing over a branch
The AR·YA® classic hammock gives
 lots of privacy 

  a welcome place for others to join
loops along all sides of the AR·YA® classic hammock
various possibilities to attach things YOU like

 
 or 
YOU attach another AR·YA® classic hammock as a room concept if you like
 You define the way of use ;-)
feel free to send us pics on FB or Instagram
links below
The AR·YA® classic hammock comes together with the 
 &
AR·YA® hammock bag
which you can use as
pouch

neck support
swing for kids
bag for your bike
car sturdy storage hammock
All
AR·
YA
®
hammocks are made of 
the cosy
& sturdy AR·
YA
®
bamboo-based fabric 
for your comfort & relaxation.
 The AR·YA FLUX®  is from now on to be reserved as well in the order section below.
Just write us if you are having interest in getting more information about 
or ordering a AR·YA FLUX®  triple hammock stand or a AR·YA® classic hammock
to fully relaxxx together with others :-)
ORDER

please fill in the form below
completely with valid e-mail and telephone number.

We can only answer you if you are contacting us via e-mail.

Thank you & have fun!
Shop coming soon ...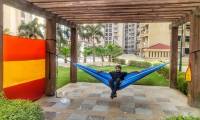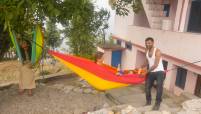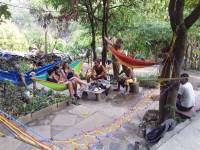 ARYA in BINSAR VALLEY RIVER CAMP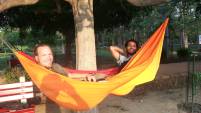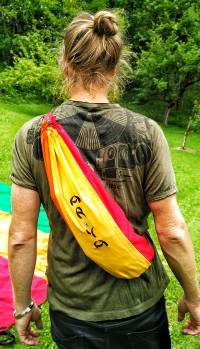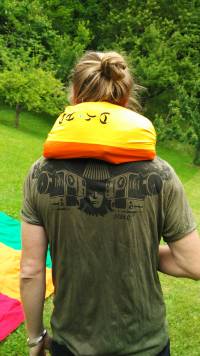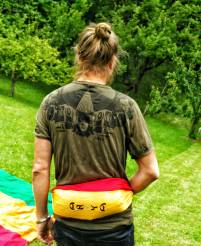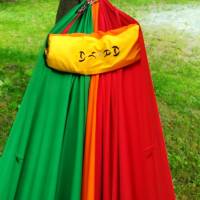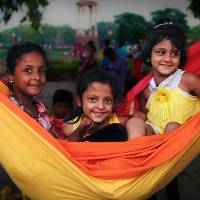 The AR•YA® hammock is
a double-wide or two-person hammock with three same size panelsconstructed with a newly developed purpose-driven bamboo and polyester fabricnature friendly, antibacterial antifungicidal and breathablemultipurposeopen rectangle design with triangles and holes at each sidecapacity 350kg/700lbsewed-in hidden interior pocket for a tablet or cellularnickel-free anti allergic metal rope endsluminous, intense and durable colorsevery single AR·YA® hammock is hand crafted, triple stitched and checked for its quality multiple loops with x-square stitchings on all edges of the AR·YA® hammock offering various  possibilities to attach things you like connect your AR·YA® hammock with another AR·YA® hammock as a room concept 
You define the variety of use!
  Of course everybody who creates our fine art products is far over 18 years of age.
The basic set comes with
two 5 meters flat webbing nylon ropes with good adhesion even on traffic poles - with nickel-free metal rope ends

AR•YA

®

 stuff bag

AR•YA

®

storage hammock bag for the big AR•YA

®

 hammock - with zipper & carabiner for multi-use 

AR•YA

®

 hammock 320cm x 225cm for multipurpose creativity & daily use


Rucksack bag
 ORDER

please fill in the form below
completely with valid e-mail and telephone number

We can only answer you if you are a positively verified user

Thank you & have fun!
Shop coming soon ...
or 
feel free to fill in the request to the AR•YA® Team for a more personal contact 
or an individual offer if you are a wholesaler
Just click  "Wholesaler" in the fill in form :-)
Sorry for the inconvenience of ordering a bit slower than usual
We are in discussion which offers we will have for you in the near future to pay as quick as possible for our products here

If you are a company you are more than welcome to get an individual offer for your hotel, spa, resort or restaurant. 
You can choose your individual colour for your business to go for a multiple win situation for your business and your clients!
Just send an e-mail to aryahammocks@gmail.com
THANK YOU!
YOUR NEXT FAVORITE THING 
made by 

AR·

YA
®
 [:AAAYEAH:]


AR·

YA

®

 hammocks are bamboo based designed with love and finished with fine art stitching
to give you a sturdy cosy experience of our AR·YA® fabric - Aaayeah.
This represents our philosophy we share with people everywhere we go.
Giving back real relaxation in the cosiest way of being a lightweight multi purpose hammock.
It´s quite difficult to feel our fabric over the internet.
Only when you buy and try an AR·YA® hammock you will never think 
of another lightweight fabric made out of parachute silk (polyester)
You will finally feel an added value with perfection and heart ;-)
The multipurpose usage makes your AR·YA® addictive in many ways.
You don´t depend on thinking about when to use your new hammock 
because there is always a use for it - every single day! 
You get a set of the AR·YA® hammock bag
the small AR·YA® hammock bag 
a backpack & the AR·YA® hammock 
The journey starts when ordering with us by sending a request above
We start with the small AR·YA® hammock bag 51x70cm
 for the regular AR·YA® hammock 
 usable as
a pouch 
a neck support
 a cosy swing for kids
 a bag for your bike
 car hammock
You define your own style of usage
For example:  
Use the AR·YA® hammock bag in your car 
between the space of the frontseat´s head supports 

  as a great lightweight - friendly - cosy & sturdy storage
We give you the 

AR·

YA

®

 

protection bag

 30x25cm as an extra for your 
 AR·YA® hammock while you love to use the AR·YA® hammock bag
for other things than just carrying your AR·YA® hammock  ;-)
The 

AR·

YA

®

 

h

ammock inclusive the small 

AR·

YA

®

 

hammock bag
the

extra backpack protection bag

 & the plain bag 

have a 

total weight of only 1380 grams
As well included:
Finest

ropes

specially designed for the 

AR·

YA

® 

hammock 

 to 

hold in place perfectly even on traffic poles
  They have metal ends to throw easily the rope ends over branches
Only you need to know how to do a

shoe node

& do slightly a savety knot
to easily reopen after
The size of the AR·YA® hammock is 320cm x 225cm 
 extrabroad for real stretching possibilities when used as airseat
to hang the AR·YA® hammock horizontal on a branch width of 80-100cm 
use to bend - laying straight if needed
do exersises because of a perfect grip on the frictional sturdy fabric

The loading capacity is 350kg/700lb ;-)
Yes - we define a new way of enjoying gravity
You will feel it


Videos

 for the FAQ´s & the USE of the product 
you can see on our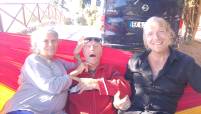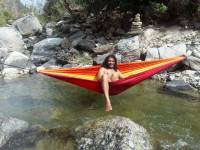 relaxing in Binsar valley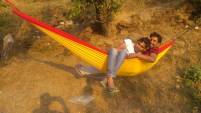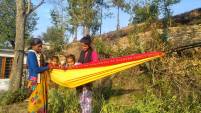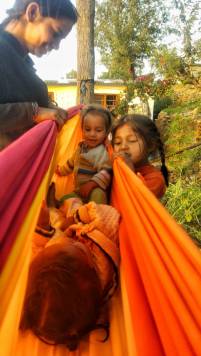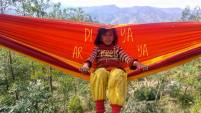 We design for your relaxation
  

YOU are the creative one!



  

For example use the 

AR·

YA

®

 hammock

 inside your home
 

or 
 even in your office 
to get the "

AR·

YA

®

 

hammock

" liberty feeling indoor
 Anti-burn-out yourself! 
Holiday at work!
 AR·YA® gives you privacy everywhere 
you define it!
  

Maybe on a trip with your bike - boat - car or plane
  

Your "

AR·

YA

®

 

way" of relaxation & the various possibilities 
 YOU can find out with the "

AR·

YA

®

 hammock

" 
 Please feel free to visit our Facebook & Instagram page
  

All the

co

lo

urs

of the materials used might be slightly different than shown on your screen.
 Here is a deep review of the 
ORDER

please fill in the form above
completely with valid e-mail and telephone number.
We can only answer you if you are a positively verified user.
In the beginning was only the thought of changing the way of feeling products we already know from daily use.
So how can we interpret things new?
We are a learning organisation.
We transmogrify the basic needs & add our wishes in the way we create the design until it is ready to be produced.
All together you feel the interaction of all needed variables.
We design & create with our partners the fabrics of all our products with all standards required.
We search always to develop, improve and customize our design according to the needs of our customers.
Feel free to post your most loved AR·YA® hammock pics on AR·YA Facebook page 
we appriciate it very much :-)
The expectations of ourselves is to provide high quality and reliable work to meet your requirements!
We work with our heart & soul!

Our company is made up of a friendly and highly competent team of enthusiasic working experts. 
Everybody in his field is doing the best for the final items we create.
We do our job very efficiently, thanks to the use of the latest technologies and a good teamwork..
All the people we need to produce your handmade AR·YA® product are working at the latest standards technically & skillwise.

we are happy to serve you :-)